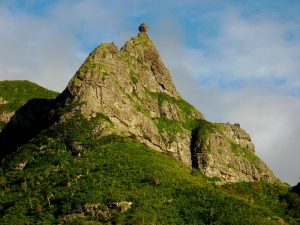 We Place You at the Highest Place….
Obadiah (NKJV)
The people that Obadiah wrote about were mountain dwelling people. They were those who felt safe and unreachable, secure. Because of their security they grew in self-reliance. Have you ever noticed how poor or oppressed people cling to the Lord, trusting Him for their every provision? Some successful or wealthy people falsely think that being able to pay for their needs makes them unshakable. Obadiah was used by God as a mouthpiece to tell them otherwise. They were being warned that their time of judgement was near. In verse 3 Obadiah tells them the pride of their hearts had deceived them. Pride is an ugly thing. It begins with presumption. Presumption according to Webster is :
"Something you think is true before you know any facts about the matter."
Reflect on that for a moment. How does that differ from assumptions? That something you think is true when you are missing information but think you have it. [1] Ouch. No one is indispensable and no one's fame lasts forever. When I read this book I can't help but remembering Electric Light Orchestras song "Don't Bring Me Down". The Beatles who were thought to be invincible were overshadowed by this new group. They, would be reduced in popularity as the years went by and the shocking truth is that we all have an expiration date. Just ask the people in the cemetery. When we live like we don't have an expiration date, pride creeps in.
Pride is characterized by arrogance, haughtiness and disrespect. It works its way into families, churches and schools. The "ism" group is produced by Pride and displays its ugly work. Ism refers to an oppressive and especially discriminatory attitude or belief. [2] It does not seek God's opinion or report but creates its own. You know the ism group – racism ( rejection due to one's color), sexism (rejection because of ones gender), ageism (rejection based on one's age), elitism (rejection due to one's education or lack thereof). It shrieks, "I'm better than you" and reduces its victims to being less valued, loved, appreciated, employed or involved. Sometimes the most prideful are those who insist they have the most "common sense". It begs a comparison to be made with another which is at the very heart of pride and arrogance. It may even be a shadow – one thinks someone else is better than them and then lives accordingly. Sometimes pride comes in the form of pretending to be humble, real or righteous. Anytime we take on the role of judge and presume or assume, we are headed for confrontation with the ONE who sees and truly knows ALL – especially the facts. As a New Testament believer I believe that BAPT–ISM levels the ground and makes us all valuable based on the work of Christ. All jostling for power, wisdom, strength, etc. rest at the foot of the cross. whew.
The people in Obadiah's world were listening to God. They took time to hear from God.
This past week I decided to stay home from a fellowship, overwhelmed with tasks, chores and holiday plans. I wanted to see friends. Toward the end of the day I felt a pressing on my heart to leave all my important tasks, "it's time to pray". It wasn't booming but very quiet. I responded not to my day planner but God's voice. I had to make a choice WHO and what I valued more in that moment. I was going a mile a minute on my own track when I felt corrected to pause. Choosing God's kingdom vs. our own is imperative. Seeking God's report and agenda is critical if we want His kingdom to reign in our lives. If we slow down, pause… we give God room to speak. How can we do kingdom work if we don't know what the King wants on any given day or week? How can we run with His word if we have first not heard it? I want 2020 to be Spirit-led. The people in Obadiah's time did not have a need for God or His resources. Their self-reliance and self-confidence led to them pushing God away.
Cs. Lewis once said,
"Humility is not thinking less of yourself, it's thinking of yourself — less. "
When we look up and think most of God, everything else comes into perspective. At our house we have to "catch up" on the weekends or we go into a new week drained and empty of that perspective. When we pause to seek God, we find Him. Schedule the catch-up lest it turns into months and years.
In Muhammad Ali's heyday as the heavy weight champion in boxing, he had taken his seat on a 747 which was starting to taxi down the runway for take-off. When turbulence became really strong, the flight attendant walked by and noticed Ali did not have on his seat belt, and said, "Please fasten your seatbelt, sir." He looked up proudly and snapped, "Superman don't need no seat belt." The flight attendant did not miss a beat and replied, "Superman don't need no airplane either." [3]
Andrew Murray, in his book on humility said,
"Pride must die in you, or nothing of heaven can live in you."[4]
I think that makes confession, communion and self-examination imperative for individuals, families and churches. How often? Well that shouldn't depend on when you feel you need it because quickly we would all assume we were fine and go on without it. Heaven does not come from programs, events or agendas. When we try to achieve success or grandeur apart from God, we exist in a state of pride. Those who choose to share the mercies and compassion given to them by a loving God, in order to impact others, live in a blessed state of God-centered humility. That then feeds a love and gratitude for Christ and blessings are exponential.
God also rebuked the people of Obadiah's day for gloating, rejoicing over others demise. He drives this point home by repeating Himself several times saying basically that they were jerks in the day of their brothers "calamity". God not only cared about how they treated Him but how they treated OTHERS. That's true religion. He reminds them that "The day of the Lord upon ALL the nations is near; …as you have done, it shall be done to you… As I watched the media this past month I was alarmed. Obadiah's words seemed to come to life and became very relevant. Many thinking they were acting for God were caught with blood dripping from their chins as they pointed out others flaws and sins. Obadiah describes the prideful people as "standing on the other side" when they were not loyal or even kind to those they should have been. May I ask the question, when did America become two sided? This prophetic word from Obadiah is not for the Democrats or Republicans, it's for ALL who are under the Lords watchful eye. When did Christians go with Apollos or Cephas and think God would not notice? Whose side are we leaning on? It MUST be the Lords side.
Hear the contrast:
17 "But on Mount Zion there shall be deliverance (escape from slaughter and war- a timely word!), and there shall be holiness (consecration and sacred setting apart from the common and mundane);
the house of Jacob shall possess their possessions ( to enjoy, inherit and take by seizing, to delight in).
18 The house (family) of Jacob shall be a fire (A theophany, an altar of fire),
And the house of Joseph a flame (weapon, sword, spear);
But…. the house of Esau shall be stubble;.
What do you want your house to be in 2020? Who do you want to be in God?
19 The South shall possess …– Obadiah lists mountains, lowlands, fields; and states that these will be possessed. Not because Obadiah decreed and declared it but because he humbled himself to sit before the Lord and hear GODS' REPORT. God knows and determines the outcome based on His will and obedience to it. He was declaring and sharing what the LORD had to say. Big difference in the focus and results.
I love the contrast and comparison in this very short book. It is concise and God does not use many words to communicate His heart. Choose. Choose who you want to be and reflect. Edom or Jacob/Joseph? Pride and arrogance (Self-created wishes and whims) or humility and consecration (Gods' word and directives)? Free-will means we are given a choice but God firmly and finally determines the outcome of those choices.
The house of Jacob – they are positioned like logs awaiting God's fire so they can become heat and light, an altar of God's presence. Joseph – like a flame, a sword and spear in God's hand, yielded to Gods direction. He was not content to fill in his goals for the year and then take ownership of his schedule and accomplish it. He wants GODS AGENDA and purpose. He was GOD led and directed, not purpose or goal driven. Timely word for Obadiah's generation AND 2020.
21 Then saviors (plural) shall come to Mount Zion
to judge the mountains of Esau,
and the kingdom shall be the Lord's.
The last line to me is the strongest – the Kingdom SHALL BE the LORDS. That is our source and place of loyalty. It is not what we direct or imagine. His report is His will and intention, heard by those who will take the time to receive it. Not what we decree or declare like a mantra but an accomplishing of God's heart and purposes in the earth.
So Father, we posture our hearts in 2020 to sit before You, wait in Your presence and hear Your report. We want Your will and Your commands. Your opinion is our delight. Your guidance is what we long for. Speak to us, direct us; guide us for
Your glory.
We also pray that you would make our families, our houses, our churches and schools like Jacob and Joseph – ready for YOUR will, altars of fire. We love you Lord, KING of ALL.
RenaeRoche2020
[1] Dictionary.com
[2] Merriam-Webster.com/dictionary/ism
[3] Ravi Zacharias, Can Man Live Without God, (Word Publ., Dallas: 1994), p. 7
[4] Andrew Murray, Humility