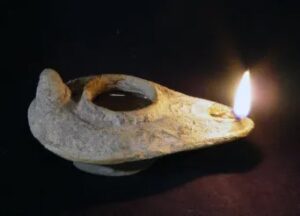 2nd Samuel is the "rest of the story", and it is not preached as often as some other books. The stories of Nathan the prophet, Gad the Seer, and the book of Jasher were all part of the collaboration to make it possible. I've been around folks that don't believe in all that "spirit stuff" and it strikes me as odd that we see lots of spiritual things in this Old Testament book. Prophets and seers are in Gods' word. Back in the day we were asked how long would the Spirit dwell among men and signs and wonders be in effect. Some said spiritual manifestations ended with the apostles, some said it ceased after Pentecost. I was taught from Ephesians 4:13-15 – "until we ALL attain to the unity of the faith, and of the knowledge of the Son of God, to a mature man, to the measure of the stature which belongs to the fullness of Christ. If you've done any ministry in the church lately you will know that all unity has not taken place and all knowledge has not been dispensed, we have a way to go. We need the Spirit, we need the offices, we need the gifts – some days more than others. Unity in the church and the city is really important.
When you systematically study a book, you get to see the triumphs and the tragedies. We need to go through the entire book, so we learn all the lessons – not just the super-hero narratives or the victories but the suffering, pressures, etc. This book has a combination of both wins and losses.
This month, I was horrified by some of these stories and for some reason they seemed so much more violent than I had realized. I read numerous commentaries that talked about Davids' dynasty and its place in history. I read about the pressure he was under and how he cracked under that pressure breaking Gods' heart and the peoples resolve. It is a fine book of leadership. How many sermons have we heard on Davids' mighty men? I don't recall however, ever hearing one about the wise woman in this book. She has challenged me.
There was one phrase that stuck in my heart and pulled me back to the text. I'll apologize up front because this may seem like a soapbox or perhaps even a political appeal, but I promise you, it's not– it is more of a passionate plea to step up and to obey God.
Listen to this story in 2 Samuel 22. The context is that Davids military leader Joab has a rebel (Sheba) and his men, cornered in the town of Abel-Beth Maacah. They have chased him inside, with his troops, and they are building a way to go in and capture him and possibly all the fortified cities inhabitants.
Then came the desperate cry of a woman in the city, "Hear, hear, say I pray you, unto Joab, come hither that I may speak with thee". Wise here does not just mean smart but one who is learned, prudent, crafty, shrewd, and educated. It is also used of sailors who know how to maneuver their ships. She's been around awhile and understands how things work. She cries out twice HEAR, HEAR. The soldiers let her speak – they made room for her to say what she had to say but first she intreated, beseeched and requested that she be heard. This was her Esther moment.
The word for city in Hebrew is "ir" (pronounced ear). This woman in the city is yelling out Shama! Shama! Which is an imperative and means listen, listen or hear, hear. She is imploring and intreating them to hear her. She pleads and demands that they come near her so she can speak with them.
Her city is besieged. People will die if this continues. She asks the question –"Art thou Joab"? He answered, "I AM". David's right hand man is on the scene.
Then she said unto him –HEAR- (an imperative), the words of thine handmaid and Joab answers, "I do hear".He's defensive but still listening. Then she spoke saying, "They were wont to speak in old times, saying they shall surely ask counsel at Abel; and so, they ended the matter. I am one of them that are peaceable and faithful in Israel; thou seek to destroy a city and a mother in Israel; why wilt thou swallow up the inheritance of the LORD?"
Hold up now- Joab these are the good guys. He needs to slow his roll because he is about to make a big mistake and she points out to him exactly who they are dealing with. It is a crucial moment in time.
He tells her I AM LISTENING. His response is like that of a child being addressed by his mother which is very interesting. She is thwarting his military advance and does not seem to be what he was expecting.
Joab answers "far be it from me, that I should swallow up or destroy".
…"then the woman went unto all the people in her wisdom. And they cut off the head of Sheba the son of Bichri and cast it out to Joab. And he blew a trumpet and they retired from the city, every man to his tent. And Joab returned to Jerusalem unto the King." Note that these relationships would have been fostered and developed before this crucial moment.
Who saved the city? The wise woman and her plan. Salvation came to the city because this woman intervened. Her skills were not known but our hint is that she was a mama, which speaks volumes to me. Her physical muscles may or may not have been large, but her emotional muscles surely were in that moment. Her title was unknown and yet she interceded, negotiated, and won deliverance for the people within the city walls. That's impressive on many levels.
Yet, she has no name, and we are never told her credentials. We read of David's men after this story. We are told her attributes- faithful and peaceable. We are told that she is wise. Gail Wallace from the Junia project tells us about her title, "Wise" in her article on Abel- Beth Maacah:[1]
"Some scholars believe the "Wise Woman" title represented a civic leadership role that existed during the period of the judges and early monarchy. It appears this role was filled by women known for wise judgment, rhetorical skills, and the ability to negotiate difficult situations (see Camp, Frymer-Kensky, and Youngblood²). The story of this wise woman's approach to a critical situation (and Joab's response) gives some clues about this wise woman tradition. The decision by English translators to change this title to "a woman who was wise" or a "wise woman" (no caps) obscures this possibility."
No name lady. If you read the entire book she really stands out. She didn't cause the fight; she didn't ask for the fight and yet she steps up and brings salvation to her city through her negotiation and position. It seems she is a mighty prayer woman –but the text does not tell us that. I do not know of any woman who would have the guts to step up and prevent a national disaster that is not a praying woman, just saying. Her credentials are peaceful and faithful. Good qualities –and they give her some serious credibility.
Mighty or wise? She was pro-David, pro-Israel, and savvy in negotiation. Her appeal was not to seek the diviners or other gods but to declare her Gods character and allegiance to Him – I am peaceable and faithful. Respect. She saved her city by speaking up. She saved David's integrity by preventing the blood guilt that would have landed on his soldiers. To Joab's credit, he listened. Did he know about the woman from Tekoa in chapter 14? The Bible includes these stories, and we would be wise to "hear" them as well. This wise womans' leadership was essential to Israel. I'm not taking a woman stand or a political stand here, this is the word of God – 2 Samuel. I am saying that these stories need to be added to our repertoire and given for encouragement for both men and women.
How do these passages impact our political landscape? How will these examples inspire the way we pray or vote for our city or national leaders? Are there people using their influence, skills and prayer in our churches and cities today?
David in 2 Samuel 22 goes on to tell us that he was compassed with waves of death and that the floods of ungodly men made him afraid. What did he do? He called upon the Lord, he cried to his God and God heard his voice out of His temple and his cry entered the ears of His God. There is no greater power than to say that you have the very ear of the God who created the Universe. Power and strength.
In the next verses we get to see the "underbelly" of this strong leader. We see his secrets for success:
The Lord rewarded me according to my righteousness; according to the cleanness of my hands hath he recompensed me. For I have kept the ways of the Lord; and have not wickedly departed from my God. For all His judgments were before me; and as for his statutes, I did not depart from them. I was also upright before Him and have kept myself from my iniquity." He speaks on and then says in vs.29, "For thou art my lamp, o Lord and the Lord will lighten my darkness. He speaks eloquently and passionately letting us know that God is his strength and power, and that God makes his way perfect.
This month as an object lesson, we got the boys lights for their heads so they could explore at night and even ride their bikes. They felt more safe since they could see where they were going. They could go more quickly because they could see anything in their path. It makes the darkness bearable to be able to know what is coming up. In a world full of LED's we miss the message that in that day, they could not travel, fight or do anything without oil or lamps. They were essential. It meant life or death. In earlier chapters we hear the people saying that David was their lamp. He could have rejoiced in that and taken all the credit but in the end of this book he glorifies God and lets us know the source of his strength. God was David's avenger. God was David's shield and salvation. God was David's lamp.
The lamps of that day were shallow bowls filled with oil and a wick to light. They would hold the bowls in their hand and sometimes put them on the wall to see in the night and darkness. David led the people in victory because he was following after God and his ways. He demonstrated Gods ways for them to follow. They called him a lamp because he was a vessel filled with Gods oil being lit up for Gods purposes. There would be no light if there was no oil or no vessel. David led them to victory because David was following God– until he wasn't and then he had to choose his own consequence. We can't understand grace unless we understand the consequences of sin in the Old Testament. In spite of all this, David continued to inquire of the Lord and seek His heart. That is a great sign of good leadership.
He finishes this book by telling us the "Spirit of the Lord spoke by him, and the Spirits word was in my tongue". The God of Israel said, He that ruleth over men MUST BE JUST, ruling in the FEAR of God. Gods' requirements for leadership are straightforward. Wait a minute Renae this is just a spiritual blog, are you saying Gods interested in politics? He is interested in the salvation of the city, the nation and whether God uses a learned woman who is wise, a military leader who is listening or 30 rough mighty men, God wants to be our shield and salvation. Those who rule over men MUST BE JUST, ruling in the fear of God. You decide and please let these passages impact how you vote.
David's dynasty will continue and one day the PERFECT ruler will appear, and He will tell His disciples YOU are the light of the world. You are the ones who will bring salvation. You are the ones who will shine in the darkness. You are the ones who will be filled with my Spirit to show others the way.
The wise woman had spiritual authority because she was first peaceable and faithful. Joab had spiritual authority because he was listening and stopped to hear what was being said. David had spiritual authority because he was representing Gods light instead of his own – filled with the spirit and shining Gods power in the midst of a very cruel and evil world.
Is it dark where you live? Is it dark where you go to school? Is it dark where you go to church?
Call upon the Lord. Let Him be your lamp and power and strength.
Who is worthy to be praised? Who needs salvation from their enemies?
Are we hearing, are we listening?
One city, a resourceful, unified city for God. That comes from leaders in unity, women and mothers praying and leading in the gifts and strength and wisdom God has given them. Mighty men standing on their walls in intercession and faith. Walls of division and suspicion broken down. God almighty lifted up. May we be the lamp of our families, churches, cities, and nation to illuminate Jesus.
For further study, read Proverbs 2. Lord, give us your wisdom and light the path you have placed before us. Eph.2:10.
Standing with you,
Renae Roche 2023
[1] The Junia project: Gail Wallace March 31, 2014