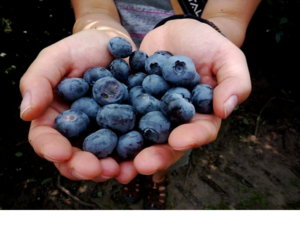 What is God Waiting For?
James 5 The Month of June
7 Be patient, then, brothers and sisters, until the Lord's coming. See how the farmer (Husbandman) waits for the (precious fruit of the earth) land to yield its valuable crop, patiently waiting for the autumn and spring rains and (hath long patience for it, until He receive the (early and latter rain).
Recently my oldest son led a devotion on patience. He did an excellent job, and I was convicted. That entire day I was very impatient, and fretting. At the end of the day, I was to go in for what I thought was going to be an awful horrible dentist appointment. It turned out to be so easy and pain free I was shocked – and had wasted all that time on worrying. My worrying accomplished absolutely NOTHING except irritating those around me. When we cannot see the end in sight, we tend to get grumpy and impatient, wanting what we want right now. A week later when I led the devotion, I was directed to this text. We are not the only ones who are waiting. God is waiting, God is long-suffering and patient as He waits for His son to return and bring His Bride home. In this passage He is waiting for fruit, precious fruit.
The Lord is pictured in James 5 as a farmer or husbandman. Fruit can be works, deeds or ones changed in evangelism. Fruit, good character, and deeds bless the Lord. He is waiting for the Harvest and precious fruits. What will be gathered today or tomorrow in our lives?
James goes on to say, "You also, be patient and stand firm with established hearts brothers and sisters for the Lord's return is near. The Judge is at the door, and He is listening!
My husband planted blueberry bushes in our yard last year. This year we can see a few berries popping up. He chose where to plant them because they are his. He gets to receive the fruit because they are his. We can enjoy the fruit with him, but they are his. Those little berries this year give us great hope that there is more to follow. We rejoiced when we saw them because that means there is movement, growth, and hope.
The book of James details how God wants us to grow and flourish. It is not to be super Christians or an advertisement for the "best church" in town. It is to keep the water flowing and to present to HIM, a wonderful Harvest. While we wait, we continue to break up the fallow ground, plant, fertilize and water. We stay in the process of bearing fruit – together, to present our fruit to the Farmer. (See also John 15)
We recently saw on social media, the tragedy in Texas (Robb Elementary Shooting) and as a nation we were crushed. Evil abounds everywhere. There is no reason or justification for taking others' lives. I was studying James 1 that day,
2 My brethren, count it all joy when ye fall into divers' temptations; Knowing this, that the trying of your faith worketh patience.4 But let patience have her perfect work, that ye may be perfect and entire, wanting nothing.
I had to put my Bible down. It was to distressing. How can we even use the word like joy on a day like that? How could God ever say we could have joy in the midst of such a horrific event? I know scripture is true, but it seemed insensitive at the time – until I studied it further.
It does not say joy in general but when you are overwhelmed and surrounded by various afflictions and troubles. We are to consider and perceive (have authority over, as leaders to command) ALL circumstances as having the potential of joy to be wrought– that the Sovereign God can rectify, heal and use it. God did not cause this horrible incident, in fact, Gods' Word warns against such actions. God has a much longer look towards the horizon than we do. His purposes are eternal and not temporary.
When, not IF– you fall (are surrounded or encompassed) with various sorts of problems, afflictions and trials, knowing (being convinced of) this, that the PROVING of your faith… The proving of our faith will accomplish or bring about a desired result. God will come into the circumstance and will grow in us steadfastness, constancy, endurance. BLB.org says this, "In the New Testament, the characteristic of a man (or woman) who is not swerved from his deliberate purpose and loyalty to faith and piety, by even the greatest trials and sufferings, patiently waiting with perseverance. James goes on to write that:
5 If any of you lack wisdom, let him ask of God, that giveth to all men liberally, and upbraideth not; and it shall be given him.6 But let him ask in faith, nothing wavering. For he that wavereth is like a wave of the sea driven with the wind and tossed 7 For let not that man think that he shall receive any thing of the Lord.8 A double minded man is unstable in all his ways.
When we do not know what to do or how to do it, when we are involved or see horrific things and problems, we have a place to go for answers – God. He answers abundantly and liberally and – does not get angry just because we asked for help. He has promised — when we ask for His wisdom – we shall receive it, it shall be given." That is good news. We cannot blame God for trials or tragedy. We can trust His character, His heart and as we see in James 1, we can still have joy because God is on the job- bringing redemption in the situation. He did not cause it, but He certainly will FIX or redeem it and bring mercy into every part of it. We need to trust Him and keep asking for wisdom. When we do not understand – He is still working.
I will leave what that wisdom looks like right now. I have my own opinions but for the sake of this blog I want to urge the reader to know that nothing escapes Gods' watchful eye. He warns people and shows them the way to go. He redeems people and situations. He turns ashes into beauty, broken things into whole things– all the while hearing each desperate plea. No, you can not unscramble an egg but that is never the end of the story. We count it all joy because we know that God has the FINAL outcome and word. As Laura Story sings in "Blessings" the pain reminds us –that this is not, this is NOT our home. The rest of this chapter is relevant:
12 Blessed is the man that endureth temptation: for when he is tried, he shall receive the crown of life, which the Lord hath promised to them that love Him.13 Let no man say when he is tempted, I am tempted of God: for God cannot be tempted with evil, neither tempteth He any man:14 But every man is tempted, when he is drawn away of his own lust, and enticed.15 Then when lust hath conceived, it bringeth forth sin: and sin, when it is finished, bringeth forth death.
Death comes when we seek our own way, ignore God and His Word. This was the scenario in Texas – This is where the journey began and while other safety measures may need to be in place, this was the one that bore (began) the worst fruit imaginable. Being drawn away means we seek our own way, will, and kingdom, ignoring others or making them of less value in our eyes. That is where the problem, most problems, begin.
18 Of His own will He chose to give us birth thru the word of truth, that we should be a kind of first fruits of His creatures.19 Wherefore, my beloved brethren, let every man be swift to hear, slow to speak, slow to wrath: 20 For the wrath of man worketh NOT the righteousness of God.
I do not claim to have the answers or know how to fix all that is broken –but I have been touched by the book of James, reminding me that we can, must still have joy in spite of what is happening around us. Evil is never the final word. We can know that a supreme God still reigns, sees and will prove us–until He receives the intended result that HE wants to see come about. He is not caught unaware because of any situation and will redeem ALL things, for His glory.
The joy is not the circumstance – it is knowing we are not alone or hopeless in its wake, we are not abandoned in its occurrence. Lord means Lord over ALL and that is the context of our joy – that hope remains, in spite of the trial. Only God bring beauty out of pain.
The question to you this month is this – What will you choose to do with your life? Your relationship with God will determine if you are drawn nigh or drawn away. If we do not submit to God first, we will not be able to resist the devil. Will we bear bad or good fruit, weeds or wisdom? What will grow? The book of James has great advice for our crops. What fruit will we present to the Lord at the end of this day, month, or life? What are you, we waiting for?
Wrestling and waiting with you,
Renae Roche 2022