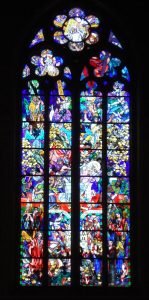 We have come to celebrate; we have come to sing of Your great power and the greatness of Your love. In the house of the Lord, where Your children come to dance and sing. Do you remember this one? I don't know what you've come to do, I've come to praise the Lord, I've come to lift Him up, I've come to stomp for joy… Or Carmen singing, "Who's in the house?" JC!
The last verse of Psalm 23 is our last verse for the blog this week and also the last one for this year – 2018. Last year at this time, I was just starting a sabbatical and looking for a way to reach out to those I have discipled or befriended during the years of ministry. I started this blog just to reach out to a few people on Facebook and now over 38,600 people have visited the site. The widget says since 2014 but it was added just last December. Thank you for visiting. I can't believe that a little step in faith reached people around the world with the Gospel. It cracks me up because media people know that this is not the form that is popular or recommended yet somehow God is using it. Shout out to the folks in Greece who keep trying to sell me stuff, the Russian porn ad guy who may have gotten saved and the countless people who offer their editing services. You just never know who is paying attention.
Our Christmas decorations are still up as this year we experienced Advent and are heading towards the Epiphany day, fully ready to discover the Magi anew. I welcome the excuse to keep the lights and tree up. Our Advent ring burned up one night when the Christ candle got too hot. It sure made the holiday more interesting when we discovered it wasn't just the toaster setting off the fire alarm! O holy night, the candles were brightly shining, it was the night of fire alarms and mirth.
My family had quite the time this year as our wonderful neighbor helped put up our lights. We added a gold, light- up, metal angel in the front yard. She's beautiful and people keep stopping to take pictures. Or at least we think that's what they were doing. Hubby Joseph was busy getting ready to enjoy the Christmas vacation and holiday when the angel face planted in our front lawn, bending the tiny tent stakes that came with her original packaging. For days, there she lay, our kids and others making jokes about her late night habits. It was really weird to defend a metal angel and her integrity but I still tried. I suggested using a plunger, crutch, broom, marshmallow stick, etc. to keep her upright, much to my husband's dismay. Twas the night before Christmas and all thru the house not a creature was stirring, except Marvin our mouse. When out on the lawn there arose such a clatter I sprang to my bed to see what was the matter. (Boy, this sounds familiar somehow…) Down went the angel, clattering wings as she went. I knew in a moment the car would have a dent. Joe, I nagged, "we are getting known as the fallen angel house people." Who wants their house to be decorated with a fallen angel? That's anti-Christmas like. He replied, "Baby it's cold outside." It was cold, windy and dark and our angel looked like she was making snow angels on the ground or worse yet dead. After years of dreaming of a nicely lit house with some type of ornament outside– this was not what I imagined. The next night before supper I gently made a comment about grounded Gabriel. In exasperation hubby got up to go to Home Depot to get big yellow tent stakes while we sat at the dining room table wondering if all the Christmas preparation had finally caused the ol papa unit to snap. The children singing "Angels we have heard on low" probably was overkill. I think I mentioned it probably one to many times this season. I just could not bear being the "house of the fallen angel." Then, one morning our family was having devotions in Revelation and we read Revelation 7:11, "All the angels were standing around the throne and around the elders and the four living creatures.
They fell down on their faces before the throne and worshipped God."
"Mama, my little boy cried out – our angel is doing exactly what she is supposed to! That's what they do in Heaven – fall down before the throne worshipping God." Alas, we are a household of proper theology in spite of our ornament. I question whether this is what they meant at PTS to "wrestle with the scriptures." Lol.
Somewhere between Hanukkah, burning up the advent ring and resurrecting a face planted angel in the front yard we managed to still celebrate the birth of our Lord and Savior and navigate family time this year. This last verse of Psalm 23 was especially helpful – "And I will dwell in the House of the Lord – forever." I hear it will be calm and bright there. Sigh.
That baby in the manger brought forgiveness for our past sins and directs us to our Heavenly home. Families longing for something stable – that's it. Stability and peace are possible if Christ is Lord of your household. Joseph and Mary were the original "blended family" and because of their obedience and the birth of the Christ child, we have HOPE. That is pretty amazing and worth celebrating. Goodness and mercy are bringing up the rearguard and securing a legacy for all those in Christ. God has our back covered. But what about the future? What does that hold? Many are prophesying and predicting what next year will bring. I never hear anyone say, next year your room will be clean, your tables will be dusted, your kids will do their homework, etc. No, it's always big crazy stuff because that is what people like to hear. Maybe as Christians we do that too?
God's house – we often picture Heaven and think of John 14 and that is part of the "future" equation. Do Shepherds raise A lamb or a flock of sheep? A church or household is a group of people that have common interests and goals. They connect and carry one another through the battles. We were planning to go to a district church function recently and ended up staying home because I had to work later than I anticipated. I was heartbroken. We could have rallied but between the holidays, family obligations and general sense to not travel without preparing the vehicle kept us away. I missed the laughter, the scripture, the prayer and song. We could not give or receive and it felt disconnected. Church can be like Heaven on earth, it can be a source of feeding, resting and care/comfort. Shepherds know that there is safety in numbers and that sheep do best when they remain in a flock. Independent "I gotta be me" life styles may seem fun in the moment but doesn't really bring the peace one needs during a weekday. God brings us to Himself AND into the fold, to dwell with US.
What if to dwell in the house of the Lord meant to be snuggled, nestled in His household (church, people) vs. a physical building or futuristic Heavenly abode? What if part of the Shepherds care for us was to be connected? What if dwelling or living in God's house was abiding in His presence and with those who call on His name? That would be a daily, moment by moment positional type care rather than just a wish to make it into eternity. Maybe it is both – a heavenly future home and a here and now supportive household we enter in thru collaboration and connection? Whatever the case or location – I want to BE there.
Forever in this verse is literally forever and all days. That is morning and evening- all of them. Not my length of days (because I'm a finite human) but as long as days exist we want to be in the Lords' presence and in the presence of His people. My household is pretty squirrely, smoky and crazy sometimes but it is awesome to me –because the people I love the most are with me. Heaven will be awesome because the people God loves most will be there. If it refers to the here and now and Christian fellowship – being a sheep in fellowship with other sheep becomes important- eternally.
John Burke has a book out that gives insight into Heaven- Imagine Heaven (Baker Publishing 2015). King David wrote in Psalm 84 how he longed to be in God's Temple, dwelling in His presence. It seems that those who posture their hearts towards eternity and live among those who long for it, are the happiest and most content. I want to be in that number! I believe the reason Homeplate advantage works for families is because they take time out weekly to remember how real and close Heaven really is. (Homeplateadvantage- Pathway Press and Derek Publishing 2018).
In the midst of our holiday, someone we knew slipped into eternity. The timing seemed odd but on the day that person passed, it felt like Heaven was celebrating. Our focus was redirected and our perspective on what was important drastically changed. I remember walking outside and thanking God for that person's life and legacy. By accident my cell phone started playing the song, "Well Done" by the Afters. I had never heard it before but it snuck into my heart and danced around awhile. You may like it also, as you refocus 2018 and prepare for 2019. Our Great Shepherd leads us to dwell with Him daily (John 15) and is also actively preparing us to live with Him for eternity. The church is one of the tools He utilizes to do just that.
May you find Him and may you find Him in THEM in 2019. That's Heaven- here and there.
RenaeRoche2019