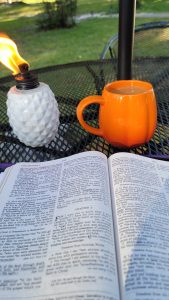 Colossians
In the beginning and at the end of this letter we hear of the saints love for all of Gods people. What a wonderful thing to be remembered for — a deep love for ALL! Rather than being known for what they disagreed with or who they followed, the Colossians were known for their LOVE. Part of the key to that love was being filled with the knowledge of Gods will and living in GRACE. Their example and standard was not just in one another or even Paul – but Christ Himself.
In Colossians we hear the words that Jesus is "pre-eminent". What does that mean? In Greek, the word is proteuo (being chief or first). According to Vines Expository Dictionary it means that Christ is first in rank and significance. He (and His opinion)is First, Foremost, TOP … or should be. When we remember He is SUPREME –it causes us to value ourselves and others in proper alignment. Humility flows when Christ's authority is lifted up. When people willingly follow Christ –that is true submission.
Moving from the city to living in the woods has had many interesting lessons. Nature is fascinating on many levels. Here's something we found out – if you are sitting outside and it becomes dark, look up– as the looming shadow coming near you may be a plane or a huge bird. It may be a heron, a hawk or whole flock. That shadow signifies what is coming closer. Ignoring it is a mistake. If you see a shadow on the ground — it may alert you to a bear (or intruder) hiding behind the trees. It's a visual alarm signal. Shadows are important. It notifies us of what is to come. The Old Testament gives us shadows or clues of what is to come through the various festivals. It teaches us God's character and pattern of redemption. Paul, who had never visited the Colossian church wanted them to know how to see God. So, he writes,
"The Son is the image of the invisible God, the firstborn over all creation. 16 For in Him all things were created: things in heaven and on earth, visible and invisible, whether thrones or powers or rulers or authorities; all things have been created through Him and for Him. 17 He is before all things, and in Him all things hold together. 18 And He is the head of the body, the church; He is the beginning and the firstborn from among the dead, so that in everything He might have the supremacy. 19 For God was pleased to have all His fullness dwell in Him, 20 and through Him to reconcile to Himself all things, whether things on earth or things in heaven, by making peace through His blood, shed on the cross."
In a culture that worshipped many deities, in a religious context where the people had to "clean up" before they came to God through various traditions, Paul welcomes them to the fulfillment of all – Christ, the supreme one. If they saw HIS image – if they looked on Him, they would be able to know God, and be reconciled. They could be transferred from darkness into the Kingdom. Not thru cleansing of hands or circumcising of flesh or singing songs in E minor but through HIS BLOOD. That is the reason for their hope. Thankfully, we are circumcised, buried, and raised by Christ. Fate and observance are replaced by the fact that Jesus gave us His favor and positional righteousness on the cross. That process is important to understand . While we no longer have enact the full traditions, we are called to "remember" Gods love thur Christ in communion. It was the only request Christ emphasized. Quite the exchange!
The new believers wanted to fit in, be part of the Colossian church but there were those that wanted them FIRST to follow men's traditions – ritual cleansing, circumcision, human requirements, avoiding meats, worship of intermediary angels, false humility, etc. The newbies just wanted to come to the table! What are modern day examples of this? Perhaps dietary restrictions, avoiding meats, wearing jeans vs. tuxes Sunday morning, Hillsong vs. Bethel vs. redback hymnal perhaps? There were so many cultural laws that prevented people from coming to the Lord and His presence. The Pharisees became the standard rather than Christ. Their opinions trumped listening to the Spirit. Paul didn't say stop celebrating God, but to stop placing human laws and opinons on people who wanted to come near. Christ was foremost – HIS opinion should be chief.
What do you need to know God and worship Him? What do you need to draw near? Nothin but the blood! The answer is not a political party or diploma. It is not in a denomination sign or membership card. Only the blood of Jesus reconciles us with a holy God. The Colossians were getting tossed around with "extras" and Paul wanted to clarify. He simplified the list of what to < and what to >.
One of the verses that stirred my heart was Col. 2:1 "If then you were raised with Christ – SEEK those things which are above where Christ is, sitting at the right hand of God. Sitting occurs when a priest has FINISHED his work. Set your mind on things above, not on things of the earth. For you died, and your life is hidden with Christ in God. When Christ who is our life appears, then you also will appear with Him in glory!"
We all know what it is to seek right? I thought I did but it's more than just a mere look. When applied to this context it means to "crave, enquire, meditate on, and desire." That is more intense than lukewarm faith. It is looking with intent and passion. It means it can't be mere head knowledge. I wonder if our cravings for other things, would be less, if our cravings for Him were more? Knock, knock. Who's there? "It's me Lord and I've come to enquire about this savior you sent into the world – Jesus. I'd like more information. Reveal Him to me. I want to know His story."
Do we ponder, breathe, investigate, and research His heart, His character, His preferences? That would include the Old Testament and its players. That would include Jewish and African preachers. History of women, judges, history of prophets. Back then the debate was washing hands before eating, circumcision and Jewish table etiquette. We no longer argue about how to celebrate the festivals. While some believe the festivals were just a Jewish ceremony, they were actually what the Lord gave everyone to remember His character. They could not see the compassionate, merciful, loving Savior so all the combined memorials and ceremonies were to give them a visual to acquaint themelves with God. It was a preview – an adumbration, a faint outline of what was to come. Jesus embodied ALL of that. These celebrations created their story. In their absence, new pagan holidays (or manmade ones) have risen in their place. Paul still celebrated the festivals– without the legalistic requirements. The point was to know and keep Christ the MAIN thing – from the heart. When the full image comes into view, He can be seen and reveals the Father.
In a month where candy corn is all the rage and fear is King –let me suggest to you digging deeper into this seeking idea – Paul calls the believers to SEEK those things which are above – with desire. Do we still remember and feel desire for the Lord? It must be a greater > desire > than finding that perfect costume at the bottom of the Walmart bin. A greater desire than running a marathon thru Hobby Lobby to decorate for the season. A greater intensity than any other thing. Setting your mind means you focus your emotions and thoughts on it. Thats what Colossians states.
Burger King states we can "have it our way". The people flying flags on the news, suggest we can satisfy our own desires and doing so is our "right". Maybe –but for the Christian, we died, were buried and raised which is supposed to include giving up our rights for Christ. Supreme, Christs' opinion whether popular or unpopular is to be pre-eminent. Period.
I read Haggai this month while studying Colossians 2. It says "…I will shake the nations and they shall come to the Desire of All nations (a name for Jesus), and I will fill this temple with glory… then a promise that He will give Peace." Christ, our peace, is the solution to our need. He is the desired one who satisfies our deepest longings and cravings. The high point is now changed from a ceremony and temple to a Savior filled with Peace. Great upgrade– Gods' own son!
In Colossians, Paul lays out orthodoxy – correct, true doctrine. He points them to the Pre-eminent Christ. Those who peddle "extras" without Christ will distract you from your purpose – seeking Him. Paul also lays out orthopraxy – correct behavior, letting the Colossians and us know that continuing in faith and putting to death sinful behaviors is important. He even goes deeper by talking to church, family and work systems calling for love and holiness. That is opposite of todays message of personal liberty. We need more "God Image" and less of a self-image focus perhaps. In our day, personal freedom is elevated without the call to be holy. Paul calls us to renovate our old ways and be renewed, reconstructed, and transformed to God's image. How do we do that? Through Christ – the image and paradigm God chose to disclose Himself to us. That first means we need to have knowledge of it. Hear Paul exhort them, "Therefore do not let anyone judge you by what you eat or drink, or with regard to a religious festival, a New Moon celebration or a Sabbath day. 17 These are a shadow of the things that were to come; the reality (soma/body/life), however, is found in Christ."
When we were studying the festivals in the Old Testament, we gained new perspective on the immense effort God put into making Himself known. Each year the events found in Lev.23 became more meaningful. It seems the modern-day church has ignored much of that history, rather than embracing how Christ has fulfilled it. It was how God revealed Himself and the prophets foretold Messiah. It gives us a window into God's very heart. At the very least it gives us stories that help us see Jesus clearly which in turn reveals God.
As we dive into October, many will wear costumes, carve pumpkins. The American holiday at the end of the month is now the second highest grossing holiday after Christmas according to the National Retail Federation. According to Statista.com about 70% of all Americans understand and celebrate it. But it doesn't reveal Christ, it doesn't help us know Gods' character and it certainly makes no appeal for self-examination or repentance. Shadows cause us to look FURTHER, investigate, seek…until in LIGHT we see the One our hearts desire. Paul goes on to say in chapter 3:
"Therefore, as God's chosen people, holy and dearly loved, clothe yourselves with compassion, kindness, humility, gentleness and patience. 13 Bear with each other and forgive one another if any of you has a grievance against someone. Forgive as the Lord forgave you. (Lev.23 events show us this in detail – the prophetic , shadow story of forgiveness and mercy). 14 And over all these virtues put on love, which binds them all together in perfect unity."
"Put on" is to bundle and tie with a twisted chain rope. Paul is wanting them to array themselves with these things, layered up like a queen in royal garments, bundled together so it becomes one beautiful ensemble. The word comes from a Roman military battalion of 600 soldiers (manipulus), that encircles with no room left for the enemy to enter. What a beautiful word picture of Gods' love to and through His church!
Let us continue to celebrate God's goodness and understand the mystery of Christ. May we look on His image so we can see His grandiose majesty. May we keep Christ the main thing and put on the new man. If He is our focus, then we will be grounded, steadfast and not moved away from the hope of the Gospel. Our orthodoxy (belief) and orthopraxy (behavior) will be radiant as we walk, clothed (not just costumed) in a fine array of love.
Whatever the individual seeks and desires, the family will investigate. Whatever the family enquires about, the church will look into. Whatever the church passionately desires, the world will look into. Where is our gaze? What do we crave?
Happy Hallowed and Sacred rejoicing of the One we desire and seek – The Desire of all nations — Christ, Supreme. RenaeRoche2021