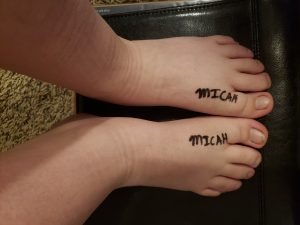 Our son Josiah's feet of courage
Micah
I love Facebook and it is fun to interact with people, hear their updates and share stories. I especially enjoy the encouragement and scripture from other believers. Lately, I've noticed that there is a predominant thread about our society not "listening" to one another. Young people don't listen to older people, Republicans not listening to democrats, Evangelicals not listening to Catholics and of course the reverse happens when they don't listen as well. I'm not sure if this is a new thing or ramped up because of politics but it sounds dangerous to not "hear" one another. By the time we do hear one another it may be too late. Consider this guy:
A 92-year-old man went to the doctor to get a physical. A few days later the doctor saw the man walking down the street with a gorgeous young lady on his arm. At the man's next appointment, the doctor said, "You're really doing great, aren't you?" The man replied, "Just doing what you said, 'Get a hot mamma and be cheerful.'" The doctor said, "Listen, I didn't say that. I said you got a heart murmur. Be careful."[1]
It is important to hear instructions clearly from a doctor but how much more important from God? In Micah we will come to understand just how important it is to listen carefully. Micah knew that judgement was coming, and that God was building His case.
This prophet was more than a visionary as he called people to HEAR, to really listen. It fascinates me that he called us to listen to something that he "saw" from God. God was upset with the nation because they were seeking idols, involved in prostitution, coveting others' gifts, defrauding and robbing people and passing by others without a care. (God sees these public and private sins). They also had defiled and corrupted their resting and sacred places. While we can't blame everything that goes wrong on God, in this case God tells them that HE is the author of the calamity coming upon them. Yikes.
There are many imperatives in this book as God through Micah points out that they really, truly NEED to hear what is being said to them. God tells them that He will massively gather them back after they have been scattered and that it is His will that the left-over folks, the residue, those remaining will be collected and gathered into one-fold.
The verse that meant the most to our family was this one:
"Break open the way – the One who breaks open the way will go up before them; they will break through the gate and go out. Their King will pass through before them, the Lord at their head."
So often we hear that God is the "Way maker"[2] and in this passage He shows Himself to be just that. We don't make breakthroughs happen, we are to get behind the One who breaks through and follow where He is leading. Praise God! We can still kneel, fast, cry, scream and eat grapes all month to try to gain a breakthrough but Micah is pretty clear when he tells us to get behind the One who breaks the way open. Seems pretty simple – if we follow.
God calls out the leaders and asks them why they hate good and love evil. Imagine if our politicians answered directly to God. Wait, they do? While they should be embracing justice, they continue to have dishonest weights, scales, biases, actions and all kinds of nonsense going on. The culture is rampant with dishonesty and the people are weighed down with sin. In this wretched crowd Micah stands out:
"But as for me, I am FILLED with power, with the Spirit of the Lord, and with justice and might, to declare to Jacob his transgression, to Israel his sin."
Is Micah arrogant or God- confident?
That is very different than the other leaders around him. So, what was Micah's secret? Thankfully Micah didn't have Facebook or the internet, or we would have to pay $19.95 to get his five tips to success. Thankfully Micah didn't make DVDs, or we would have to wait for them in the mail to discover why he lived in a different category. We aren't told in a concise formula but in vs. 2 we are told to "come up" to the mountain of the Lord, to the temple of the God of Jacob. What an open, beautiful invitation. Can you hear that in your life today – "Come up higher?" God, who melts the mountains like wax – HE will teach us HIS ways, so that we may walk in HIS paths. The law will go out from Zion, the word of the Lord from Jerusalem." Later in that chapter we are told "we will walk in the Name of the Lord". I believe these things were part of how Micah lived out his faith. Rejecting the idols and shame, sexual promiscuity of his age and following God's law, word and ways seemed to keep Micah on God's path, doing God's agenda.
So how does one follow the law, aren't there over 600 commandments? God gave us the law of love and said ALL laws were fulfilled through Christ. See Galatians 5:14 and Romans 13:10. We can read His word and we can walk in His name meaning we take on His name through spiritual adoption by giving our lives to Christ. (Go to the page on Heaven on this website for more information).
Our pastor has been preaching about Daniel for the last month or so and talking about courage to live differently in the midst of a corrupt culture. It has been a powerful series. He suggested we write "Daniel" on our shoes to remind ourselves to walk like Daniel walked. I think our walks would be different, bolder, more courageous if we did. We need reminders or we may walk like those going down wrong paths. Micah, like Daniel, knew who he was and WHOSE he was.
In the midst of a polluted, rotten, sinful group of people that knew God but refused to obey Him, comes this amazing promise that God will send them a new plan – His plan. In the midst of these promises the daughters are promised courage and strength – power to rise, thresh and break to pieces many nations. God empowered women in the Old Testament. Yes, it's right there in the text! This One that comes will stand and shepherd His flock in the strength of the Lord, in the majesty of the name of the Lord His God. IF you compare this passage of abiding and dwelling with John 15 where Jesus talks about abiding in the Vine, you will be amazed. This One coming will be recognized as the Vine that dwells or abides with us!
Vs.8 is a powerful verse that has been used by politicians and ministers alike. It reminds us to act justly, love mercy and walk humbly before God—however, it doesn't start there. That verse stems from vs. 5 where God calls His people to ZAKAR – to remember. He wants them to remember their journey, remember the stories that God points out for a purpose. What is that purpose? We look back not to stay stuck in the past but to "get to KNOW the righteous acts of the Lord". Knowing those acts builds our faith as we are reminded of God's track record. Faithful He has been, faithful He will be. When we look on His goodness, when we think about His love, when we remember the way He was our WAYMAKER…. We are humbled, we are reminded of the mercy and justice we have received and how to act.
Micah points out that considering all that God has done the people are no longer acting like God and God is angry. This God who delights to bend down and show love, kindness, favor, benevolence and mercy is seeing in His people something very different. How disappointing. In our highly politicized world today, these words seem to resonate more than ever:
Everyone lies in wait to shed blood; they hunt each other with nets. Both hands are skilled in doing evil; the ruler demands gifts, the judge accepts bribes, the powerful dictate what they desire – they all conspire together. "Then Micah contrasts himself again and it is refreshing to hear:
"But as for me, I watch in hope (expectantly, eagerly, continually observing and carefully looking) for the Lord. I will cause myself to wait for the God of my salvation and my God WILL HEAR ME." (Translation is from the Hebrew). This guy is all in. This is not a casual Sunday Christian or mere church attender. This guy is setting his alarm clock to check in on God's doings. This guy is the king of spiritual disciplines and causing himself (through prayer, worship, word, fellowship and rituals) to understand and become intimate with His God. He is not merely sitting by waiting for the action but is literally bringing the action to himself, training himself to wait in God's presence. Oh Lord may we be like Micah!
Was Micah legalistic? Maybe. Was Micah zealous and intense? Maybe. Was Micah rejected by his peers – most assuredly yes. We don't know how the others around him behaved but this guy – according to his testimony, when others were becoming more hedonistic by the hour, this guy was high on holiness and experiencing Gods voice and love. I want to be like Micah! In the midst of a crazy culture gone astray, he was dedicated to seeking and finding God. That is admirable.
If you get a chance, reread this book – or may I say cause yourself to read this book again and notice the hard times and the high hopes of this prophet. He realistically sees the depravity around him, the lies, deception, fraud and hatred. But… he looks up to the Way maker and gets behind HIS agenda. He trusts that in an unjust world – the JUST ONE is coming!
"Do not gloat over me, my enemy! Though I have fallen, I WILL RISE. Though I sit in darkness, the Lord WILL BE MY LIGHT! Because I have sinned against Him, I will bear the Lords wrath….(How humble and honest that Micah puts himself in the company of the wicked, not assuming he's more righteous but deserving of the same wrath being poured on the nation).
UNTIL …. HE pleads my case and upholds my cause.
He WILL bring me out into the light; I WILL SEE His righteousness." If you are not shouting after reading these verses, you may want to check your pulse! What hope, what expectation, what faith!
If these weren't enough, in verse 18 it states, "As in the days when you came out of Egypt, I WILL SHOW them MY wonders."
God does not just want to be a dry dusty book on your bookshelf or a cold religion that you assimilate with on Sunday mornings so you can appease the family. God wants to be your everything and show YOU wonders. Wonders mean healing, salvations, transformed lives, etc. The God who pardons sin and forgives transgressions awaits to reveal Himself to those who are looking for Him. That's incredible! Micah goes on to tell us that this God is patient and delights to show mercy. We know His favorite hobby – showing compassion and favor to His children. What a good, good Father, it's who He IS.
Last year I was given some money to distribute to people that were in need. The requirement was that they were not told where it came from but were just being blessed because God loved them. I honestly can say I don't think I have enjoyed anything as much as that experience. I got to feel God's delight. I randomly chose people the Lord put on my heart and handed them provisions they were not expecting. Some cried, some shouted, some sang … all were so surprised and began to thank God. I got to feel the mercy and tender love of Christ. It was life altering. These people became aware that the Big, massive God of the universe SAW them. God delights, enjoys, takes pleasure in meeting needs, blessing, promoting and showering people with Himself and gifts. God is not a killjoy. God does not give rules and laws/words to restrict us –but to bless us and make room for HIM. If we follow Him, we will see His goodness. If we turn to idols and our own worldly pleasures, we will perish.
Micah was warning the people not because they were evil but because God was so good. God wanted them to NOT block Him because of their sin. He wanted to enjoy and take delight in them. The ones'going to idols missed out on their blessing and caused others to fall.
No wonder Micah called out and said, "WHO is a God like you?"
"That was back then, and a lot has changed", you may say. Micah affirmed his faith and caused his heart to be refreshed when he declared, "Lord, You WILL AGAIN have compassion on us; You will tread our sins underfoot and hurl all our iniquities into the depths of the sea. You WILL be faithful to Jacob, and show love to Abraham, …
In a nation where promises are the buzz word for political campaign slogans you may have become jaded. Everyone says they will make things better only to make things worse. We watched this last week as those guaranteeing they were THE candidate to change the nation drop out of the race to pursue other goals. And it's not just politicians, I read the other day that the O'Hare airport in Chicago has doubled their budget continually over the last 10 years never reaching their promise to build a magnificent airport system. Each year they go over what they contracted by double and triple digits. The reporter suggested it is the running joke in Chicago because no one believes the "promises" any longer. It reminds me of diet goals – New Year's promises that are in stone… until the golden arches come into view. Many spouses have promised to be faithful then leave for someone else. Promises kept seem like a dream from yesterday. But God, in our day, like He was in Micah's day – does NOT change or lie. Listen to this, what Micah declared: "You will be faithful and show love…. AS YOU PLEDGED on oath (promised) to our ancestors in days long ago."
Let's fact check Micah's prophecy: Did Messiah come as promised? Yes. Did He redeem His people as promised? Yes. We know from the NT that He died, rose and ascended to Heaven. Yes. God's never broken His word.
God promises us He will forgive. God promises us He will come again.
Until then, we can delight with Him in mercy, we can act justly and walk humbly as we look to Him for our example.
Lord, help us to hear your word to Micah. Help us to walk as he did with courage and strength before you. Thank you for this example Lord. In 2020 may our vision be firmly fixed on YOU. Amen.
Renae Roche 2020
[1] Start ASL.com/ deaf jokes. Accessed 3/4/2020
[2] Michael W. Smith – Waymaker composed by Joseph Sinach. 2019.