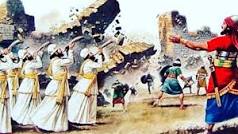 Success may look to some like a business suit or a shiny new car, maybe a college degree. In the book of Joshua, one of history's greatest leaders he tells us exactly how to be a successful leader: "This book of the law shall not depart out of your mouth, but you shall meditate on it day and night, that you may be careful to do according to all that is written in it; or then you shall make your way prosperous and then you shall have good success. " Joshua 1:8
To meditate means to roar, muse or imagine. It's the low growl of a lion, the murmur or speaking to oneself that causes one to remember something. Its point is to get it deep down inside until it becomes part of who you are and what you are about. It is so foundational that throughout this book Joshua pulls the readers back to his marching orders and battle plan – God's word.
This reading was slowed way down for me this week. I ignored the highlights I usually focus on. Before ADVANCE which everyone loves, comes the direction to consecrate. Consecrate is often thought of as cleaning up and pouring on oil which is fair. More than just creating a holy look is the understanding of setting ones whole self – apart. To pull back from the common in order to hear from the Divine. Now that hubby and I are in leadership and have intense work schedules, we have noticed that to prepare for grueling weeks, we must first set aside time to hear from the Lord and get our marching orders. If we don't pull back and reserve our energy, we will get depleted before the hard stuff even starts. But before then….
Vs. 9 "Have I not commanded thee? Be strong and of good courage, be not afraid, neither be thou dismayed for the Lord thy God is with thee wherever you go." New Testament believers will recognize the same words in "Lo I am with you to the end of the age" when Jesus promises His presence to assist in every adventure they will take. The success is not in just following orders but in the ONE who goes with you as you follow the orders. Divine assistance and guidance are promised and guaranteed. That's HUGE. But there's more…
Even before all the other orders, there is a line that is often missed: Vs. 11 says, "Pass through the host and command the people saying "Prepare you victuals, for within three days you shall pass over this Jordan…" What are victuals? Food, meat provisions. It may mean for the journey or it could mean the meal of rest that homes were still doing in honor of the Passover and celebrated with the God of creation. Get your protein! Fill up and rest, get some nutrition and physically prepare yourself. It surprises me how we often "spiritualize" these passages and miss out on some basic but often missed verses of scripture. Victory can also be part of being healthy, rested, wise and FULL.
This extraordinary leader knew his source – God. He knew how to access Him – the law and understanding God's character. He knew he had to prepare for exploits – through rest and sacred fellowship meals. He goes on to see the Jordan dry up, so the people can pass on dry ground, conquer armies and march around Jericho. We even see the sun be "still" for a day, so God can do what he wants to do for His people. It's amazing. Could such ordinary things be part of such extraordinary outcomes? I think so because tomorrow the "amazing things" are things that God will do. We do the mundane – rest, set aside and eat as our part. God does the amazing conquering as His part.
On Facebook this week I got a post that asked why there were so many leadership conferences and not more "servant" conferences. It really touched my heart. It's also very telling for our culture. Joshua was not your typical great "leader", but he was a listener of Yahweh and he was a follower of everything God ever commanded him to do. In Moses fashion he wanted to do everything according to Gods directions and pattern. That seems like a good role model to follow. Hear, obey, repeat. Hear obey, repeat. Hear obey, repeat.
Some want to be GREAT leaders and leave a legacy. Others know God is the best leader EVER and want to align themselves with HIS kingdom. I want to do all the things He asks me to, in His spirit and by His power for His glory. The stories of Joshua's obedience in this book are phenomenal. I don't want to be a leader like Joshua – I want to be a follower, a servant like Joshua. He set out to be faithful and obedient, not great. God knows what we need, when we need it and how to make it happen. Success is not from a Joshua formula but listening to and obeying Joshua's God. Then we will see God as THE leader and watch HIS people – succeed. People may mock and laugh to see you stomping around the gates singing –but only until the walls start falling down.
Serving with you, Renae Roche 2019