Children's Rest Page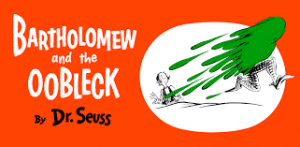 Seuss, Dr. Bartholomew and the Oobleck. New York: Random House, 1949.
The purpose of this page is to bring peace to children. How can we help them de-stress? How can we foster disciplines of grace and rest in their lives, avoiding the pitfalls of culture and societal pressures? Your input is most welcome! Together we embark on this journey for one common goal – Peace for our kids, grandkids and children we serve.
We often think that "new and exciting" is the best but often the "original" is what we can trust. God is sovereign and in control of not only the seasons of our lives but what happens in those seasons. Teaching children to count on God and His faithfulness – changing seasons faithfully Fall, Winter, Spring and Summer means we can also trust Him with our daily lives. This book has many lessons for little minds. Also, noting the spiritual elements of seeking God versus others is a wonderful lesson as well.
We suggest reading the story of the Passover and Pharaoh's magicians (Exodus 7) before reading this story and compare the lessons.
Oobleck Recipe:
As listed on the ABC's of Literacy webpage.
Use a plastic bowl with a lid on it for storage
2 cups of water
1 cup of corn starch
10 drops of green food coloring
Blend until you reach the desired consistency.
This must set for one half hour before playing with it.
Jackson (our resident fun scientist) says, " If oobleck is hit with hard pressure, your hand will bounce off of it but if touched gently then your hand will sink into it." My brother and I like how it feels rubbery when you hit it but feels soft and slimy when you sink your hand into it. We make it with green coloring so it is like the book but you could also put in red food coloring for Valentines day or yellow for Easter. *
Have fun!!!
Parents note: When this activity is done be sure to confiscate the food coloring or it will become another science experiment such as zombie making or scare the mama when I sneeze in a tissue trick.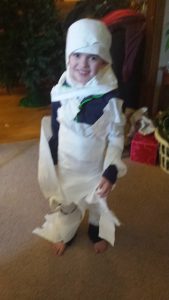 Merry Christmas
*This is not safe for babies. Make at your own risk.