Grace in the Kitchen – Community building
Team — Together we Thrive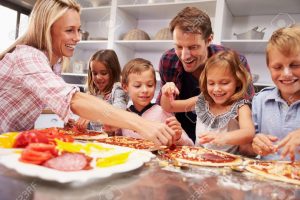 ---
Home – "make it easy"
Give each participant one section of the meal to do: Setting the table, cooking the main meal, making dessert, clean-up and dishes. If you have younger ones, give them an adult to partner with. The simpler the meal, the more time there is for fun and fellowship. Enjoy!
Honey Mustard Chicken
Place package of chicken breasts or thighs in 13×9 pan. Place in 1 lb. of red small potatoes. Cover with a bottle of honey mustard salad dressing. Cook at 425 for 45 minutes. Check to see that it is done. Serve with a vegetable (get a steamer vegetable and cook in the microwave).
Heat dinner rolls for the last ten minutes the chicken is in the oven.
Alternate: get oven ready potatoes and cook at the same time.
Dessert: Get a can of fruit (pie filling- apple, peace, strawberry rhubarb, cherry or blueberry). Put in crock pot on low. Dump in one yellow cake mix of your choice and a stick of butter. Cook on low for 4 hours. Top with scoop of ice cream.
Substitute for vegetable can be a Salad: Purchase a ready mix salad. Add cherry tomatoes and Cucumber slices. This can be prepared the night before and placed in the fridge.
New skill: Designing veggies. Wash cucumber. Score the sides with a vegetable peeler . Cut in slices. Your cucumbers will look more appealing.