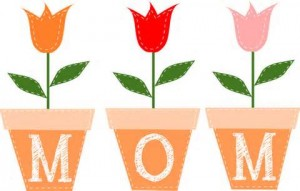 This weekend I went to Hobby Lobby to get something and encountered all kinds of people getting presents for Mother's day. One particular family stood out – it was a father and a little boy probably about five years old. The dad was asking his son what he wanted to get his mama. He pronounced boldly, "I would like to get her an owl feeder. Do you think they have owl feeders? " I wanted to say "go next door to PetSmart and get a couple mice and they'll come" but I resisted the urge and went on.
Life is full of options isn't it? Our moms had a way of pointing towards the better ones such as you can sit and shiver OR you can go put a sweater on. You can lick that cake batter spoon and get a tummy ache OR you can wait till the cupcakes come out of the oven and have one. Maybe there were bigger decisions she shed some wisdom on like you can fear going to school tomorrow to face that mean ol bully OR you can trust God to make a way of deliverance for you. You can stay In the dark about God's will for your life OR you can ask Him for guidance and direction. Life is just full of options we can choose OR we can surrender those choices to the Lords will for His glory.
While reading the book of Psalms this past week I found another OWR – it's the Hebrew word for light. It looks like this: אוֹר OWR
What it means is: Lightening, brightness and serene countenance, happiness, morning dawn, lamp, instruction and teaching. David used this word in Psalm 27 when he was talking about the Lord. He said, "The Lord is my OWR (light) and my salvation. He's our OR (OWR).
Our family watched Thomas The Disciple after studying this and in that movie, the guard watching Jesus' tomb sees a bright light in the night that changes his life forever. Though the guard was loyal to the Romans, after encountering that light made a choice to follow Christ. This Light of the world – it illumines our sin and Lord. We can press towards eternity daily. Isaiah talked about those who sat in darkness… have seen a great light! Oh to embrace that light as being for us, willing to save, shield and illumine our way. People all around the world light candles to join in anticipating Messiah – we eagerly await!
David goes on to write that God is also our salvation (deliverance, aid, rescue, safety, welfare) and strength, the (place or means of safety, protection, refuge, stronghold) of whom shall I be afraid? He goes on to write about his enemies and battles but then boldly proclaims that even in the midst of battles he will be confident. David, the singer has a much different definition of confident than modern day singer Demi Lovato. He means confidence as putting ones trust not in oneself but in Jehovah, trusting in God, being secure in God and putting His hope in God. Self-confidence is momentary, God-confidence is eternal.
4 One thing I ask from the Lord, this only do I seek: (verb here means to actively, passionately pursue)
that I may dwell (remain, stay) in the house of the Lord all the days of my life, to gaze on the beauty (delight, pleasantness, grace, favor) of the Lord and to seek Him in His temple. This isn't just go to Sunday and hear a couple tunes or even to worship for an hour. This is to Inquire: ponder, reflect, plough, break forth, inspect, admire, consider who God is and what He has done. This PROCESS as a lifestyle brings David great confidence because he intimately knows the God he seeks. He's getting to know God, reflecting on His goodness, pondering His greatness, enjoying His pleasantness, grace and favor.
Our culture often showcases self-made people, amplifies players and movers and shakers as if that was a sign of success. The song "Bad to the Bone" comes to mind. Those who define themselves and promote themselves seem to rise to the top. Yet David had success and focused on the Lord. Quite the opposite arenas. He wanted to be strong in the Lord – not himself. He knew his real source of strength.
5 For in the day of trouble
He will keep me safe in His dwelling;
He will hide me in the shelter of His sacred tent
and set me high upon a rock. Then my head will be exalted
above the enemies who surround me;
at His sacred tent I will sacrifice with shouts of joy;
I will sing and make music (a whole bunch) to the Lord.
7 Hear my voice when I call, Lord; all imperatives !!!
be merciful to me and
answer me.
8 My heart says of you, "Seek His face!"
Your face, Lord, I will seek.
9 Do not hide Your face from me,
do not turn Your servant away in anger;
You have been my helper.
Do not reject me or forsake me,
God my Savior.
I recently lost my dad and several years ago lost my mom . They were wonderful people and gave me a solid foundation in life. They were kind and honest. There absence has left a hole in my heart. One day that was especially filled with grief made me question where God was in all this. I felt kind of orphaned, abandoned. Does God understand this type of pain I wondered? This next verse was especially helpful to me and brought much comfort going into Mothers' Day:
10 Though my father and mother forsake (leave or fail) me,
the Lord will receive me. (Gather, bring up the rear, assemble others around me).
I'm not sure exactly how –but there seems to be a promise there that HE will be our family and provide family for us when we are alone. That's amazing. I've experienced that through our church and also in special encounters along the way. God should get His own day just for that! He's Worthy of celebration.
11 Teach me Your way, Lord; (cause me to be taught PLEASE — imperative)
You must lead me in a straight path
because of my oppressors.
12 Do not turn me over to the desire of my foes,
for false witnesses rise up against me, (Slanderers)
spouting malicious accusations (certainly anxiety producing if we allow it).
13 I remain confident of this:
I will see the goodness of the Lord
in the land of the living. Long-term HOPE
14 WAIT for the Lord:
imperative– To eagerly wait, hope for, linger, expect, tarry
BE (Courageous, be of good courage- imperative)
and He will strengthen your heart.
and WAIT for the Lord. imperative – Double packed twice, really important!
David's wisdom is poured forth in song and he has given us some great options to the times and trials in our lives. We can fear trials OR we can trust God. We can walk in darkness OWR we can choose the Light. We can be shaky OR we can be confident in God. We can rush around doing our own thing only to fail OR we can WAIT on God and be strengthened.
Good options – choose you this day whom you will serve.
Happy Gods' Family day! RenaeRoche2019
PS. Bless all of you who celebrate this week and also those who mourn – you WILL be comforted.